The
Wattle Trees
 are a
Special Tile
in
Bloons Monkey City
. Players must defeat 25
rounds
of
Bloons
with only
Boomerang Throwers
,
Road Spikes
, and
Pineapples
. A free Boomerang Thrower is given on Round 1, and every three rounds after that. Completion awards
$
1000, 500
XP
, and the
Enchanted Boomerang
Special Item
.
Description
Edit
Where the boomerangs come from, so pass 25 rounds with Boomerang Monkeys only. Get 1 Boomerang Thrower free every 3 rounds. Road Spikes and Pineapples allowed.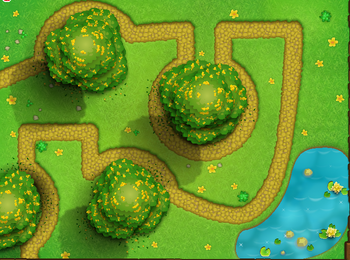 Two Wattle Tree forests appear on a Bloons Monkey City map.
In the Closed Beta, the Wattle Trees could be very difficult to beat, provided there was sufficient distance from the starting point. There would be MOABs, BFBs, Round 1 Rainbows, and even Camo Ceramics, meaning that players needed both Bionic Boomers and either Glaive Lords or unrealistically massive numbers of Road Spikes and Pineapples.
The Wattle Trees tiles are generally the easiest Special Tiles in Bloons Monkey City due to the fact that there are only two possible tactics to use: Glaive Riccochet, and Bionic Boomer with Glaive Riccochet. Both are also naturally intuitive tactics.
Ad blocker interference detected!
Wikia is a free-to-use site that makes money from advertising. We have a modified experience for viewers using ad blockers

Wikia is not accessible if you've made further modifications. Remove the custom ad blocker rule(s) and the page will load as expected.