The
Sticky Sap Plant
is a
Special Tile
in
Bloons Monkey City
. Two
Sticky Sap Flowers
have
glue
around them which slows down
Bloons
. In addition, each has an
ability
which glues all Bloons on screen, and slowly pops them akin to a 1/4
Glue Gunner
. Players must use these to survive 22
Rounds
of Bloons which give about 1/3
cash
per pop, which finish off with two
MOABs
. Completion grants
$
1000, 500
XP
, 50
Bloonstones
, and the
Extra Sticky Substance
, and allows the
Superior Adhesive Factory
to be placed on it.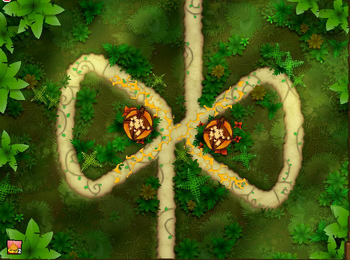 Ceramic Bloons can appear as early as Round 10 on this Special Tile.
Two Sticky Sap Plants appear on each map.
Sticky Sap Plants vary enormously in difficulty, from Easy to Impoppable.
Ad blocker interference detected!
Wikia is a free-to-use site that makes money from advertising. We have a modified experience for viewers using ad blockers

Wikia is not accessible if you've made further modifications. Remove the custom ad blocker rule(s) and the page will load as expected.